---
---
EXPIRED PROMOTION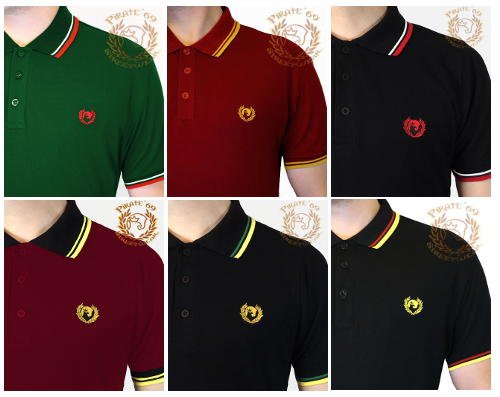 Promotion valid until Monday Nov 27th 3 PM PST. Buy One Get One Free. Just pay for one and send us a message at the checkout page with your 2nd choice from the available styles and sizes available with this promotion logo.
---
---
---
---
METHODS OF PAYMENT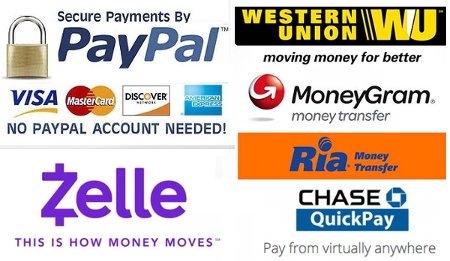 ---
---
HOW TO ORDER
The easiest and fastest way for ordering within the US and Worldwide is by using Paypal. You choose to pay with a Credit Card, Debit Card, e-check or your own Paypal funds. If you have a US bank account, you can send us a payment using Zelle.

If you do not have a credit card or debit card handy do not panic! There are other methods. Please e-mail us the list of items you want to buy and zip code (if within the US or Canada) or City and Country if you are anywhere else around the world. We will contact you as soon as possible with the instructions. You can then send your payment by choosing one of the following: Chase QuickPay, Western Union (or any other money transering service in your Country), Money Order, Cashier's Check, or well hidden Cash $$.
Four simple steps when using Paypal
Click the ADD TO CART button close to the item(s) you wish to purchase.
When ready to check-out click on the VIEW CART button at the top of your screen and proceed to click on the CHECK OUT button
Follow the instructions to pay securely with your credit or debit card via paypal (you don't need an account with them).
When done, PayPal will e-mail you a receipt, and your package will be soon on its way.
Please make sure your paypal ship-to address is confirmed , which means that the credit card billing address and the shipping address provided to us is the same. This ensures a safe transaction between you and us.
In most cases if your address is wrong or unconfirmed the item will be returned to us. But in other cases the item could get lost on its way. For this reason, we will not be liable for any lost item shipped to an unconfirmed or invalid address. We suggest that you purchase insurance.
---
---
INTERNATIONAL ORDERS
As said above, the easiest way to pay is with Paypal, if you want to mail a money order or cashier's check please make sure it is payable in the USA with US dollar currency, and follow the mail ordering steps above.

Some International Orders have additional shipping charges, please check below for rates.

Basic Tracking information (via customs number) is available for free for some countries such as Canada, UK and others. For most other countries, delivery confirmation or tracking number has an additional charge. Therefore, we will not add a tracking service unless you email us before placing your order and ask for this option. Please note that the fee varies according to your location.

International buyers, when you purchase heavy items please expect to add a fee depending on its weight. $15.00+ for Jackets, $25.00 to $30.00 for non-steel boots depending on size, or $30.00 to $48.00 for Steel Toe boots depending on size (USPS has issued a new rule for International mail weighting over 4 lbs, these packages have to use either Priority Mail or Express Mail).

Check USPS.com and click or Postal Price calculator for International shipping prices. For example, a pair of 10 eye size 6+ uk steel toed boots weight about 4 lbs 15 oz. Traditional boots without steel toes weight about 4 lbs 1 oz. Some Grinders and Gripfasts in sizes 9UK and more can weight up to 5 lbs 15 oz

If you have questions please e-mail us, We will get back to you as soon as possible.
---
---
SHIPPING
We will ship your order within 72 hours after receiving your payment or clearing funds. Please note that, within the US, it usually takes 6 to 10 business days for your order to arrive at your doorstep, but in some cases it may take up to 15 business days due to Postal Office's delays. Note that International orders might take longer. If the item you purchased says "Back-Ordered" please be patient. We will try our best to ship by the date stated but sometimes your package could be delayed due to Customs and Importing hold-backs that can take weeks sometimes.
---
---
PRICE CHANGES
ALL PRICES ARE SUBJECT TO CHANGE
---
---
RETURNS AND EXCHANGES
Changed your mind? We'll gladly accept unworn, unwashed, or defective merchandise purchased on Pirate69 Streetwear for return or exchange. If there is any problem with your order, please e-mail us, we will do our best to resolve the problem.
Merchandise must be returned within 7 days of receipt and will be credited via your original form of payment, these items must be returned in their original packaging and condition. You could also choose to receive store credit or an exchange. All shipping charges are the buyer's responsibility

We are not responsible for packages lost in the mail, to avoid these issues we suggest you purchase insurance for your package:
$3.00 FOR UP TO $50.00 INSURANCE
$6.00 FOR UP TO $200.00 INSURANCE
$12.00 FOR UP TO $500.00 INSURANCE

If your return is received after 10 days, store credit will be issued. If you provided a wrong address on your payment please contact us ASAP. All return costs are the buyers responsibility unless we reach an agreement via email. A restocking fee of 15% could be charged.